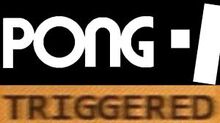 How Pong TRIGGERS You! is a video uploaded by Nathaniel Bandy on the 1st of April 2017.
This video is a part of the Triggered Series.
The video was an April Fools.
Features: Nathaniel Bandy, Digicast Pong Ball, Pong Rectangle 1 and Pong Rectangle 2.
Opening Warning: Warning the following video is an April Fool's joke so I don't even know Pong it wasn't the first game ever so stop believing that nonsense okay?
What triggers him: Where is the color black and white is boring, there's not a single piece of music the only sound effects are some beeps and Boop's, I can't adjust my sensitivity when I move up and down, I can only play to 11 points I want to keep going, the numbers are so pixelated, there's only the one level, why aren't these textures anti-alias, and what about the texture filtering y'all were lazy with this one, why can't I play this game online, what are the two blocks fighting over anyway who buys lunch political beliefs who takes out the trash, man this would be so much easier if I could just touch the screen and not use a joystick even motion controls would be better, Pong really should have been a Nintendo exclusive it's so Nintendo, you know what the played before pong? Ping Pong no not in real life that wii play version obviously, ball goes through the score it's so cheap man, wait a minute the ball isn'teven a ball because it's a square has Atari never heard of a circle, because of this game old people will always associate video games with this, I don't know where to insert my quarter my computer doesn't seem to have one installed.